Due to
breaking changes
made by Discord, the HeyTaco integration for Discord has been discontinued. The website will be taken offline on September 21, 2022.

Reward people when they do awesome things.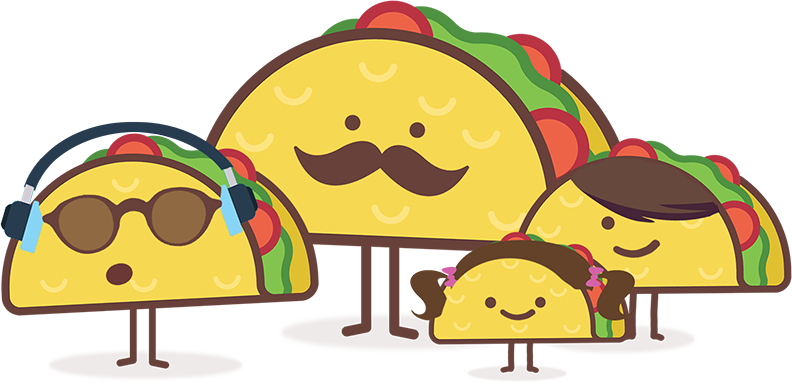 How it works
Add a little happiness to someone's day by giving them a taco. Just mention their username, write your message, and add a taco emoji, it's easy!
Examples
Everyone gets 3 tacos to give out every hour across all servers . We'll keep track of who's giving and receiving tacos with a leaderboard for your guild.
Commands
!taco leaderboard

your guild leaderboard

!taco global

global leaderboard

!taco left

tacos left to give

!taco total

your total tacos received

!taco dance

dancing taco

!taco joke

hahaha

!taco bomb

a retort

!taco song

my soundtrack
Global Leaderboard
| Rank | Guild | Region | Members | Total Tacos | Score |
| --- | --- | --- | --- | --- | --- |
| Rank | User | Total Tacos |
| --- | --- | --- |
| 1 | @theawkwardhuman | 24527 |
| 2 | @RitoHusky_ | 23648 |
| 3 | @SissyPanda | 13217 |
| 4 | @MADMAX | 12667 |
| 5 | @Angie_Indie | 12655 |
| 6 | @Skwatchee | 12579 |
| 7 | @forbiddenmob | 11822 |
| 8 | @Phoenix Tail | 11588 |
| 9 | @ObbeC | 10504 |
| 10 | @GODZILLA | 9973 |
| 11 | @AIKORUU | 5811 |
| 12 | @Pbonmars(Splendid Kids) | 5738 |
| 13 | @gawbles | 5688 |
| 14 | @Toast. | 5524 |
| 15 | @Kiht Rose | 5359 |
| 16 | @c-smash | 5303 |
| 17 | @Boomenjaken | 5269 |
| 18 | @✿QueenBee✿ | 4770 |
| 19 | @[MAD]༺𝕯𝖗𝖆𝖌𝖔𝖓༻ | 4522 |
| 20 | @Crow_07 | 4357 |
| 21 | @A-Bomb | 4173 |
| 22 | @stranger | 4156 |
| 23 | @☜】łĬł【☞ | 4110 |
| 24 | @HumerusHomo | 4088 |
| 25 | @kat.olga | 3994 |
| 26 | @Mithravindhaaaa | 3923 |
| 27 | @sloth pleb | 3895 |
| 28 | @JuanM(Infrnomaster) | 3892 |
| 29 | @WarSiren | 3673 |
| 30 | @Rai 💖 | 3597 |
| 31 | @Tartaruga | 3483 |
| 32 | @nickelleon | 3438 |
| 33 | @TessaBea | 3405 |
| 34 | @M1ndBl0w3r | 3340 |
| 35 | @OberLoki | 3307 |
| 36 | @JBryan | 3295 |
| 37 | @eWizard | 3277 |
| 38 | @wheniamqueen | 3240 |
| 39 | @Palko | 3227 |
| 40 | @neysa | 3223 |
| 41 | @twosides | 3129 |
| 42 | @strawberryfields | 3068 |
| 43 | @Chidragon | 3062 |
| 44 | @kakarotto | 3060 |
| 45 | @eryqa | 3035 |
| 46 | @Zoey | 2981 |
| 47 | @LadyofLorien | 2960 |
| 48 | @Sandy-WWLo FSU | 2921 |
| 49 | @Aritro_Sarkar | 2915 |
| 50 | @mamamusprime | 2858 |
| 51 | @Lexus | 2844 |
| 52 | @HugJunkie | 2843 |
| 53 | @Willicent💕 (jan era) | 2823 |
| 54 | @rwice | 2813 |
| 55 | @pavani | 2812 |
| 56 | @artby.amk | 2786 |
| 57 | @ɐu∀ | 2762 |
| 58 | @Yokuo | 2751 |
| 59 | @waterbottle | 2741 |
| 60 | @Autobots | 2728 |
| 61 | @Khaotics | 2677 |
| 62 | @Zander(Jenni) | 2635 |
| 63 | @kooazndood | 2549 |
| 64 | @ChefDanG | 2545 |
| 65 | @༺ Ness ༻ | 2533 |
| 66 | @QueenLuci | 2516 |
| 67 | @tanagerie | 2512 |
| 68 | @Nyx | 2507 |
| 69 | @𝕨𝕖𝕖𝕚𝕚𝕚𝕣𝕕𝕠 ت | 2493 |
| 70 | @Pluto | 2481 |
| 71 | @Austins543 | 2480 |
| 72 | @XxX_DankMemer692169666_xXx | 2480 |
| 73 | @Blondie | 2456 |
| 74 | @The Dust Man | 2447 |
| 75 | @Jezz | 2435 |
| 76 | @KiQr♡xX | 2418 |
| 77 | @Consuela Banana Hamock | 2407 |
| 78 | @Mouse | 2403 |
| 79 | @Eñrico | 2397 |
| 80 | @Bell | 2390 |
| 81 | @TacoQueen | 2383 |
| 82 | @Jey | 2381 |
| 83 | @PAN | 2345 |
| 84 | @CaptainRick | 2325 |
| 85 | @MirythIsUseless | 2311 |
| 86 | @TheBaileyBomb | 2267 |
| 87 | @Owokoruu | 2217 |
| 88 | @Bunny | 2204 |
| 89 | @tundebaba | 2149 |
| 90 | @KEGS | 2139 |
| 91 | @FaturaBlume | 2138 |
| 92 | @TonyPOL noot noot | 2105 |
| 93 | @Saint | 2094 |
| 94 | @Herrin | 2083 |
| 95 | @StreamBritish | 2071 |
| 96 | @Arrow | 2063 |
| 97 | @AireyLynn | 2026 |
| 98 | @Ruffles | 2025 |
| 99 | @Alexis2021 | 2024 |
| 100 | @Red Bear | 2012 |